Having a dream in which you visit a dirty house represents your concerns about becoming unwell or about the progression of an existing illness.
Carrying dirt in a dream means circulating rumors, and it also means dispelling
distress, or overcoming depression.
In the world of dreams. The dirt itself represents woman's property. To shake the dust off one's hands in a dream means business losses, poverty and humiliation. It also means remitting savings to their rightful owners. Walking on dirt means soliciting money.
If the dreamer sees murky water or odorous and filthy water flowing inside a house ina a dream, it means plagues that include ulcers, tumors and smallpox.
A huge hall in a dream represents comfort, financial success, a helpful wife. If the hall in your dream is dark, filthy, and full with insects and spider webs, it symbolises the opposite.
In a dream, a dirty face means a rare skill, while a dirty body means a bad person.
Collecting dirt means saving money.
We pray that Allah removes all of your difficulties and showers you with His benefits.
Cleaning and sweeping the floor of a house in a dream in islam
In a dream, sweeping the floor and collecting trash with a dustpan denotes project revenue.
In a dream, sweeping the floor and caring for the floor mat or carpet represents concern for one's neighbourhood or family.
A broom in a dream signifies one's family or household. A broom in a dream might also signify an employee, a housekeeper, or a servant.
May Allah keep us safe and strong. May Allah's loving Hand always be with you.
Cleaning a house with water in dream in Islam
A positive interpretation is attached to having a dream in which one cleans their filth with boiling water.
In a dream, washing the floor of the restroom represents financial woes.
Dream of old dirty house in dreams Islam
An old home reveals that the dreamer is coping with obsolete notions or reactions to dealing with new difficulties or challenges. See more meanings in old house in dreams accordint to Islam.
Excrement in your house in dreams in Islam
Manure indicates money to those who consume it or gather it in their dreams in their home or farm.
Animal excrement in your house in a dream
In a dream, droppings mean a new garment. If the droppings are those of an eagle or a vulture in the dream, they mean dethroning a king or a leader.
Removing dirt your a store in a dream in Islam
Dusting one's store and dumping dirt on the pavement in a dream represents financial losses. If a merchant sees his products coated in dust in a dream, it represents despair and the inability of his merchandise to be sold.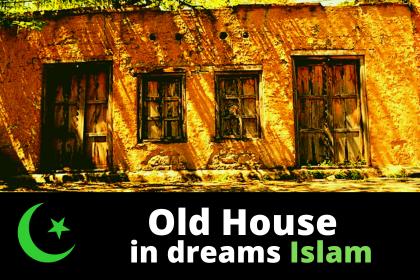 Related Dreams
Destroyed House in dream in Islam
If your house is destroyed in your dream, it means that there is strife in your family.
In a dream, to see a home that has been demolished standing upright once more is symbolic of the dreamer's attainment of enlightenment on a spiritual level. If a person is awaiting the return of a family member or a guest, and a piece of his house caves in, it is a sign that such a traveller is about to arrive.
If a person dreams that his house is demolished, the sick or elderly person in that location will die, or he will leave his wife, son, or relative, or he will lose his job.
Mouse in your house in dreams
In a dream, seeing a big family of mice in one's house could mean that a group of women are coming over or that one is having a party at home.
If you think that a mouse leaves your house, it means that gifts will leave and your pay will go down. Having a pet mouse in a dream means that you have a helper or a maid.
Rats in your house in a dream
If you dream of rats in your house, it means you will move to a new country. If the dreamer has a house, it means that he will sell it. If you dream of rats in your house, it could mean that you need to protect your home from thieves or that a close friend has betrayed you.
Clogged toilet in dreams in Islam
Destruction or blockage of a toilet is indicative of trouble for the people in that place, and of leaving or separating from a wife or slave woman, or loss of livelihood, because it is the place of relief.
Dream meaning of dirty house in western culture
Some western media dedicated to dream interpretation claim that dreaming of a house in this condition may suggest that we are shouldering the burden of other people's problems.
Furthermore, it might serve as a warning sign for personal issues, indicators of imbalance, or even emotional, physical, or professional neglect.
If you dream about a filthy, disorderly home, it may be an indication that you are stymied in your efforts to reach your full potential.
To be in a dirty house means to be toxic: It is common for toxic people to be in our midst, "contaminating" our spirits. As a result, we must treat this dream as a need to clean up toxic waste in our environment.
Dreaming about rubbish in your house indicates that you have a lot of bad energy surrounding you, regardless of where you live, work, or study. It also indicates that you do not think you are in the appropriate location, as everything goes wrong, and you have many family issues as a result of financial troubles.
Other interpreters predict that the dream of a dirty house indicates problems and unnecessary arguments in your life. Seeing dirty house in the dream is a revelation to take precautions in unfortunate situations that you may have on a day-to-day basis, since being cautious you can have better control of your personal or work situation.
It can also be said that the dream of a dirty house predicts complications with your family environment and very close friends. This may be due to a lack of communication and lack of social integrations with their environment.