~May 13, 2023~
According to Ibn Seerin, one of the greatest islamic dream interpreters ever, green in a dream means youth or fear of wrongdoing.
Given that the snake represents conflict, evil, and ill intent, we can deduce that the islamic interpretation for a dream in which we see a green snake is as follows: there must be issues or tensions with young people around you, perhaps you are having a bad time because you have to deal with childish behavior at work or at home.
This dream is warning that you got to deal with this type of demeanour among young people.
May Allah bless you with His blessings and ease your problems and hardship.
The appearance of a green serpent in a dream is another indication that immaturity, poor decisions caused by impatience, ignorance, or poor judgment are causing you stress in waking life. These are characteristics that are typically associated with very young men and women.
May Allah preserve you from this happening in real life.
Remember what is written in the Holy Book:
"Seek help through patience and prayer, and indeed, it is difficult except for the humbly submissive (to Allah)"

Quran 2:45
May Allah keep you fine always.
But not all meanings are negative.
That's right. According to Ibn Sirin, color green in a dream also denotes a successful harvest or wealth. In other words, you or your loved ones could receive great tidings if your dream of a green snake.
This dream might indicate that something good is happening in your life. May Allah (s.w.t.) bless you with more than enough.
Green is the color of the U.S. dollar bills and also the color of many bills in several countries. That's why if you see a green snake in a dream, it may be predicting that there may be great announcements for you, in your personal finances, in your business or your individual project is growing up.
It is also good to remember that according to Ibn Sirin, if one sees the sky full of green color in a dream, it means wealth, enrichment and a good harvest.
Pray that Allah blesses you with an infinite amount of prosperity and innumerable wonderful surprises. May that Allah showers you with a limitless recompense.
Read>> meaning of the color green in dreams
Giant green snake in dream in Islam
Your subjective perception of a current situation or scenario you are dealing with, such as a family conflict that seems to be very problematic and complicated, a personal task that seems to be time-consuming, or any other issue that requires an excessive amount of effort and resources from you, is expressed when you see a big green snake in a dream.
See the rest of the content in dream of a giant snake in islam.
Green snake attacking in dream in Islam
A dream of this reptile's attack may be showing your uncertainty and resistance to making crucial decisions regarding your work, your relationships, or your mental state.
May Allah protect you when you fall. May you always be in Allah's loving Hand.
Read more meanings in snake attacking in dreams.
Green snake in the house in a dream in Islam
According to Ibn Seerin, if a snake is seen entering a perbond house then this represents the dreamer's women folk and close relatives who are his enemies.
In other words, having green snakes in your dream indicates that you are having arguments, tensions, or differences with your wife, brothers, sisters, or other family members. Read more in snake in the house.
May Allah keep you in his protection and guide you towards fair and honorable peace.
Related Dreams
Dreaming of fighting snake in Islam
Fighting a this reptile in a dream represents defeating the dreamer's adversaries. The outcome of this meeting is crucial; if the dreamer kills the serpent (see Killing Snakes), it portends good tidings that he will succeed in his goals. If the dreamer is overcome by the snake during the encounter, it is a sign that he will lose a conflict or business in reality.
May Allah save you and your family from that kind of dream.
Read more in islamic meaning of fighting a snake in dreams.
Dreaming of killing snakes in Islam
If you kill many snakes in your dream, it is announcing that your prays have been heard, because the dream means elimination – in your real life – of the same problem that is expressed in many dimensions or in different consequences.
See full content in killing snake in a dream : islamic meanings.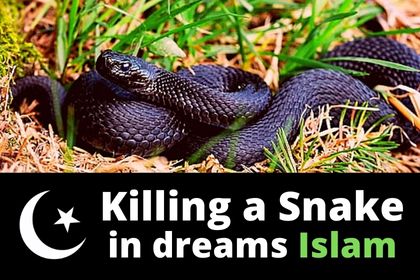 Dreaming of snakes in the garden in Islam
In Islamic inner traditions, the noble Quran is seen as a beautiful garden when one looks at it. That's why when you see a snake in a beautiful garden it means you are having doubts which your religious belief.
Dreaming of getting bitten by snake
A dream in which one is bitten represents, in accordance with the Holy Quran, an extreme level of anger, as explained by Ibn Seerin. That is one hundred percent accurate; if you are bitten by a serpent, it is a portent that you are about to become the object of someone is resentment, and it will happen very soon.
See more meaning on page: snake biting in a dream -islamic interpretations.
Green snake in dreams meanings in Western culture
For a group of dreams experts, seeing green serpents in a dream represents balance and harmony. In dreams, it signifies a new beginning, transformation, renewal, and hope. 
A different group of authors claims that a green snake symbolizes fear. When this reptile appears in a dream, it's likely that the dreamer is trying to fix a problem or deal with a troublesome person. It suggests that he is going through a difficult time or is experiencing pain, either bodily or mentally, perhaps as a result of being apart from a loved one.
If a green snake is attacking the dreamer in the dream, it means that he is very afraid and this dread is derived from a difficult situation in his life or from a problematic person causing him a lot of trouble.
If you were in any way alarmed by the green snake in your dream, it might be a warning about how to deal with a difficult circumstance or problematic person. You often ponder about green snake bites when you suffer a loss or separation in your life.
According to one website dedicated to dream interpretations, if a green snake bites you in general, it is likely you are surrounded by a lot of negativity. There may be individuals in your immediate vicinity who drain you with their continuous whining and pessimistic outlook on life. If so, you should briefly distance yourself from them in order to reclaim your optimism.
Green snakes are more likely to appear in a dream when the dreamer is feeling vulnerable or grieving.