~March 14, 2023~
A dream in which you are confronted by a snake or serpent with its mouth open indicates that you are experiencing real fear or emotional pain as a result of cruel remarks made by influential or wealthy individuals in your workplace, family, or community.
Always keep in mind that in Ibn Sirin's works, a serpent represents either a creative and inventive individual or an affluent and poisonous adversary.
If you see a serpent with its mouth open, it signifies that you are expecting to receive very terrible news in one area of your life. Perhaps you have observed or heard some negative clues concerning this. May Allah grant you the fortitude to defend it.
Pray that Allah shields you from people like that who are toxic. Stay as far away from them as possible.
Snake with open mouth attacking in dreams in Islam
A serpent with an open maw attacking you may represent your doubts and insecurities regarding major life decisions, such as those concerning your career, marital status, or emotional status.
When you eventually give out, may Allah protect you from danger. We pray that Allah's loving hands remain on you always.
This dream may represent a personal challenge for you. Be courageous and pray to Allah for protection, and pray for assistance in dealing with current or prospective scenarios that may cause you emotional stress because you do not know what decision to make or how to approach a problem or situation at hand.
May Allah wipe away all of your tears, concerns, afflictions, and aches and replace them with complete joy, smiles, and good health.
>> Read more about snake attacking.
Snake with open mouth biting in dreams in Islam
Seeing the wound of a serpent in dreams is rumor and slander against your or your family's reputation. It also warns you against poor ideas and impure thoughts that an ungodly person may implant in your mind.
>> Read more about snake biting.
According to Al Bakri:
Some of them asserted that the viper represents optimism because it has a great deal of venom, and venom represents prosperity. If he dreams that he is holding a snake, Allah says that he will acquire some wealth from his enemy in a secure fashion.
'Grasp it and fear not; We shall return it to its former state.'[Ta-Ha 20:21]

Al Bakri
Related Dreams
Being injured by a snake in a dream Islamic Interpretation
If in the dream you got injured by the snake the snake attacks you and blood comes out of your body, it means you are doing something which is not completely halal, something that takes you time or resources, perhaps a practice or action which is going against the words and teaching of the Holy Prophet.
If you are interested in this dream check: killing a snake in dreams.
May you always be in Allah's loving Hand.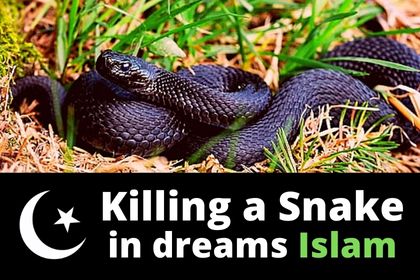 Catching snakes in dreams in Islam
If you have a dream in which you are capturing snakes, it means that you have the inner strength to overcome a disagreement with a close companion.
It is a symbol of the determination to embark on a different course in life.
If you have a dream in which you suddenly grab a serpent, it is a sign that your present personal life is marked by demands that are not being met.
If you have a dream in which you capture a reptile with your naked hands, it is a portent that an old enemy will make a comeback and make it their mission to destroy everything that you own.
In your dream, the enemy will give up if you bring a serpent under your control and then set it free. It is also a sign that your financial prosperity will deteriorate, either because of an unexpected increase in hospitality costs or the possibility of a financial shortfall in the event that the borrowed funds are not paid back.
Snake crawling on you in a dream in Islam
If you had a dream about a serpent slithering, it meant that you were dealing with a personal situation that was so difficult or overpowering that you wanted to get away from it at any cost. It is also possible that your mind is hallucinating as a response to the stress and anxiety caused by your hectic lifestyle at the moment.
If a Muslim has this dream, it may be a sign that he is becoming more conscious of an impending danger in his life. This dream may also be a caution. In point of fact, it is not inconceivable that he will run into a challenging scenario in some facet of your life.
Dua for before sleeping
If you are having repetitive dreams about snakes and you have a hard time to fall sleep, here are a dua for it:
O Allah, verily You have created my soul and You shall take its life, to You belongs its life and death. If You should keep my soul alive then protect it, and if You should take its life then forgive it. O Allah, I ask You to grant me good health.'

Al-Muslim 4:2083
May Allah vanish all of your hard times and give you lots of peace and happiness in your life.