~October 2, 2023~
According to some Islamic authors, the color yellow represents stress, anxiety, and illness. Therefore, if you have a dream about yellow snakes, you should be concerned about the health of a friend or family member.
A yellow serpent attacking you in a dream may be a sign that you are worried about not only getting physically injured but also emotionally hurt.
Remember that seeing a yellow flag in a dream denotes a pandemic illness, according to Ibn Sirin, one of Islam's best dream analysts.
May Allah, the most Generous and Merciful, save you and your family from that kind of situation in life.
According to Ibn Sirin, a yellowish face in a dream means bad news or miseries.
Also, take into consideration this interpretation:
An aggressive yellow snake may show up in a dream as a caution that the dreamer might find it difficult to control or handle his personal goals. In some circumstances, it might be a way to communicate the issues he is experiencing as a result of his overly positive view of a partnership with an individual close to the dreamer.
It is a good idea to take the apparition of a friendly golden snake in a dream as a sign that the dreamer is going through an internal process of healing. This may be the case if, in the dream, he does not experience fear at the site of the serpent; rather, he may experience emotional relief. It is possible that the dreamer has started to embrace a part of himself by admitting his own shortcomings.
May Allah keep you fine always.
Related Dreams
Dreaming of yellow and black snakes in islam
If you dreamed of a yellow with black snake, then you are afraid to make personal decisions.
To see a yellow and black snake indicates that you are paralyzed by personal doubts and insecurities. There is uncertainty in your head that prevents you from moving forward in life.
While some dream interpretations can be alarming, it is essential to remember that dreams are often metaphorical expressions of our subconscious emotions and thoughts.
Yellow and black snake in a dream as per Islam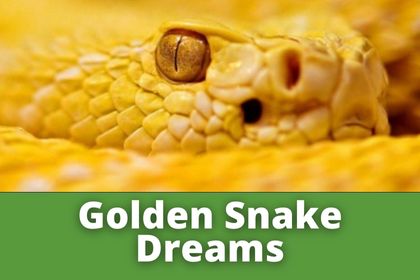 Dreaming of golden snakes in Islam
If you dream that the back of the snake is gold,as per Ibn Seerin, it is likely you will find treasure. However, by treasure we can think not only in material riches but also in emotional or spiritual benefits, such as a wonderful relationship with your wife or family members, respect and admiration from people you care the most.
See more islamic interpretations in golden snakes dreams.
Dreaming of white snakes in Islam
If you come across a white serpent, it indicates that the foes you are facing are relatively feeble.
It is possible you have been overreacting before a situation or scenario that you had thought to be way more harsher or riskier than what it really turned to be.
Read moree in white snakes dreams in islam.
Dreaming of snake cut in half in Islam
When a snake is killed by being split in half and left in two pieces, it portends positive news regarding a dispute or fight you have with a particular person.
Dreaming of a dead serpent that has been split in half denotes latent wishes to separate, eradicate, greatly lessen, or even become sick with your present issues.
Dreaming of snake coming out of my body in Islam
If you have a dream in which a serpent is leaving your body, it is a sign that you have a strong desire to purge yourself of undesirable behaviors.
Remember, the snakes not only represents evil enemies or adversaries, but also the snake represents something negative you do not like about yourself: most likely your negative personality traits. 
See the rest of the content in snake coming out of your body in dreams.
Dreaming of snake biting in Islam
If you see a snake biting you in the dream, it means you enemy will try to harm you as much as you will be harmed by the snake bite.
If you are interested in this dream, check snake biting in dreams – islamic interpretation.
Dreaming of snake coming into your body in Islam
If the dreamer is sick and in the dream the snake enters upon his body and wards off something bad from him, this is saying that the dreamer will live and will recover.
According to Ibn Sirin, snakes in the stomach are indicative of the relatives of the dreamer; if any of them come out of his stomach, he will lose a relative.
May you always be in Allah's loving Hand.
Snake choking you in a dream in Islam
Having dreams where a snake is choking you -or is about to do it- expresses certain negative influences in your wake life preventing you from being yourself.
It is possible that you are going through situations that make you feel suffocated emotionally, such as, for example, economic hardship, family issues, or stress for your workplace.
Dream meaning of yellow snakes in Western culture
According to western authors in western culture, dreaming of yellow snake contains several meanings that reveal problems that are bringing imbalance and stress, as well as symbolizes new phases and resolution of impasses.
It is common to dream of yellow snakes after having spent a time in which you have felt lost, sunk and that perhaps you have needed psychological help. When you feel a little better, that's when yellow snakes appear in your dreams to give you extra help, ancestral protection and a kind of guarantee of success.
A yellow snake can also represent richness on your path, mainly due to its colors. Take advantage of the moment to concentrate more on your work and conquer those riches. Read golden snake in dreams.
The dream of a yellow snake has a positive meaning because our mind is trying to convey the idea that we enjoy engaging in pleasant activities. The meaning of visions involving yellow snakes, however, is somewhat ominous for women as it implies that a man may mistreat or torture them.
Having a dream of yellow snake is related to renewed energy and more vitality and more illusion in your life. It is the power that emanates from the color yellow and also from the snake itself, which encourages you to remain active, to act, not to decay in your spirit.
This dream can also be announcing that someone may be betraying you or that you are betraying your ideals. For example, he's probably trying to convince you to do things that are against what you believe. Although at times you think that it can bring you a positive result betraying yourself in the long run will have bad consequences.
Dreams of yellow and white snakes symbolizes warning about new obstacles. But remember that the meaning of the color yellow brings the confidence and wisdom of your life.
Yellow and red snakes in your dreams indicate that you will be in a busy mood. However, avoid ignoring your surroundings because doing so puts you at risk of being duped.
If the yellow snake is small, this means that problems may be close. Keep an eye out for these potential situations. You have already been warned that something can happen, now is the time to anticipate.